Features
What is Auto-Blipping?
Auto-Blipping removes the need for the conventional"heel and toe"technique used to raise rpms with the accelerator while braking at the same time in an attempt to prevent slipping and turbulent motion caused by rapid downshifts when sports driving in manual transmission model cars. This allows the driver to concentrate more on braking which in turn results in a more accurate and smoother deceleration. Operation is safe as the Auto-Blipping function does not operate when accelerating without braking or when a set speed has not been reached.(Patent pending)
Example of Operation during Downshifting
[Heel & Toe]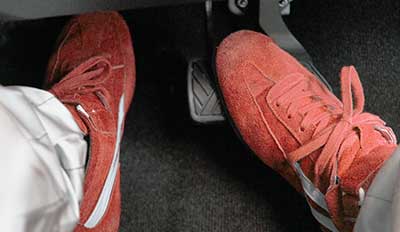 To avoid slipping it is necessary to use the specialized heel and toe blipping technique.
[With Auto-Blipping]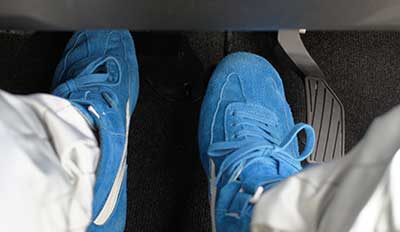 Blipping occurs automatically so it is possible to concentrate on braking.
Adjust to Most Suitable Blipping
When using blipping to raise the engine's rpms, it is possible to fine tune the settings for degree of acceleration, time length of operation and the speed at which blipping starts; making the perfect match for your car model and driving conditions.
Easy Operation
After starting the engine, simply press the Auto-Blipping switch to ON and Auto-Blipping will engage after having reached the set speed when the clutch is depressed while stepping on the brake.
Throttle Controller for Best Response to Match Driving Style and Conditions
The controller has three modes to match your driving style and conditions whether driving for sport, driving slippery roads or driving with gas efficiency in mind: Normal Mode for regular response, Sports Mode with 7 steps for a quicker response, and ECO Mode with 3 steps for a slower response. The choice is yours.