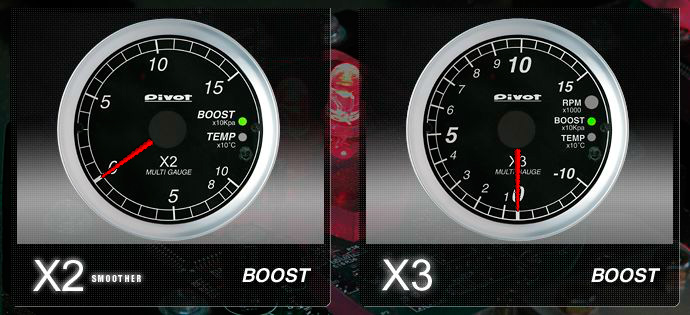 Smooth Action
New Controller provides needle action quick and smooth.


2 in 1 Display
Switch between 2 types of display in the same unit.

Peak Hold Function
Save and display peak reading after reset. (Peak readings are all saved even when the key is turned OFF.)

New Design
New Design with Enlarged Display of -100 to 0 KPa allows for easy viewing of Boost and Vacuum.
(Normal aspiration cars will only display minus pressure.)

Can be used in conjunction with PROGAUGE.
The shared design features and illumination colors make PROGAUGE and X2 the perfect combination.

Easy-to-read translucent LED.
The translucent LED system provides a clear even display which is easy on the eyes.
(The lamp color may differ slightly from the actual color.)
No need for hassling with pipes
and wires

Coupler connection to the diagnostic monitoring connector for easy-installation.

Air Pressure Correction Function

The air pressure correction function allows you to input altitude values to help make corrections in the differences between the ECU boost pressure info (absolute pressure) and the readings of standard gauges (relative pressure)
Stepping Drive

Stepping motor drive brings you a high-performance display with no hunching or overshooting.

Affordably Priced

Two types of display at a total cost of 18,900 yen means each type is only 9,450 yen and that translated into a great buy.


1. This product connects to the diagnostic monitoring connector and can not be used in conjunction with other products
2. The display will not work properly and hence is incompatible if either of the following is the case:
1. The ECU is different from the standard for that model. 2. If a sub-computer is being used.
3. Some model cars cannot display all items. Please check "Compatible Car Models List" before purchasing this unit.
4. Due to the ECU information received, the displayed values on this product may differ from those of standard or other meters.
5. By disconnecting the battery or the connector it is possible to erase all peak readings.
Size

Easy-to-Install with Double-sided Tape. The 4 mm ultra-thin cable. Installability is our Concern.